The 9th Annual
Dealing for Duchenne
benefiting the
CENTER FOR DUCHENNE MUSCULAR DYSTROPHY AT UCLA
May 14, 2016
Poker Committee
Hank Azaria, Valerie Azlynn, Anna Belknap, Rich Eisen, Willie Garson, Joshua Malina, Camryn Manheim, Timothy Olyphant, Ajay Sahgal, Sanjay Sahgal, Kelli Williams
Dinner Committee
Tyla & George Bohbot, Valencia Foster, Cathy & Scott Jones, Ellen & Steve Klinenberg, Valerie & Jorge Llauro, Amy & Chris Martin, Peggy Moretti, Nathalie & Daryl Moss, Eliza & Joel Murray, Shelley & Steve Rothman, Patricia Rudolph, Sue Smalley & Kevin Wall, Sabrina Strong, Laurie & Scott Voelz, Claudia & David Wang, Nicole & Marc Weiss, Tom & Melanie Meyer-Whalley
405 Freeway (Heading South)
Exit Washington Blvd
Turn right on Washington Blvd. (East)
Go1 ½ Miles to Madison and turn right
Immediately on the right side of street is Sony Pictures Studios, pass entrance
Turn right on Culver Blvd. and continue to the first traffic light (at the Shell Station)
At the light, turn right into Culver Gate #3 (across from the Shell Station)
Upon clearance from the guard, proceed to the parking structure on the left
405 Freeway (Heading North)
Exit Washington Blvd.
Turn right on Sepulveda Blvd.
Turn left on Washington Place
Turn left on Washington Blvd.
1 Mile to Madison and turn right
Immediately on the right side of street is Sony Pictures Studios, pass entrance
Turn right on Culver Blvd.
Continue to the first traffic light (Motor Ave.) and turn right into Culver Gate #3
Upon clearance from the guard, proceed to the parking structure on the left
10 Freeway (Heading West)
Exit Venice Blvd.
Turn left on Venice Blvd. (West)
Go 2 miles to Clarington and turn left
Pass Washington Blvd, Sony Pictures Plaza, and Sony Pictures Studios
Turn right on Culver Blvd.
Continue to the first traffic light (Motor Ave.) and turn right into Culver Gate #3
Upon clearance from the guard, proceed to the parking structure on the left
10 Freeway (Heading East)
Exit Overland/National
Turn right off exit on National
Turn left at the first traffic light on Overland Ave.
Go approximately 1 mile to Washington Blvd and turn left
On the right hand side will be Sony Pictures Studios
Continue traveling on Washington past the studio to Madison Ave.
Turn right on to Madison Ave.
Turn right on Culver Blvd.
Continue to the first traffic light (Motor Ave.) and turn right into Culver Gate #3
Upon clearance from the guard, proceed to the parking structure on the left
Download an Auction Donation Form Here!
Download a Sponsorship Form Here!
The Center for Duchenne Muscular Dystrophy (CDMD) at UCLA is proud to announce the ninth annual Dealing for Duchenne event to be held on May 14, 2016, at the Legendary Sony Pictures Studios in Los Angeles.
This fun and inspiring evening attracts over 500 guests each year and will include a celebrity Texas Hold-em tournament, craps and black jack tables, live and silent auctions, and a gourmet dinner by Wolfgang Puck. This year we will honor Anne Wojcicki, CEO and Co-founder of 23andMe.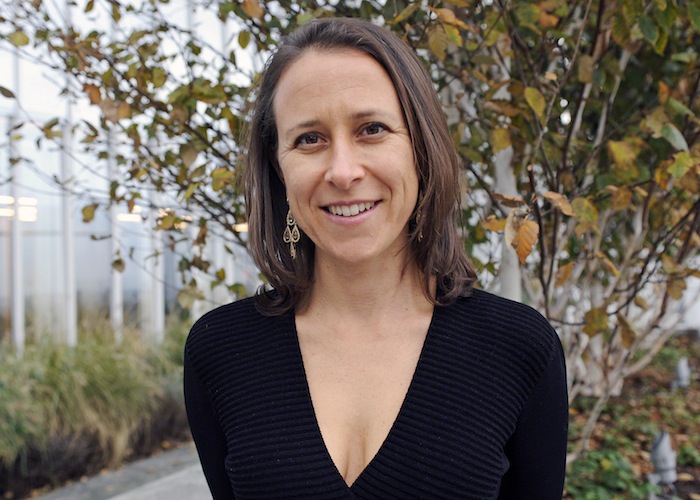 Anne Wojcicki, CEO and Co-founder of 23andMe
Anne Wojcicki
CEO and Co-Founder
Anne co-founded 23andMe in 2006 after a decade spent in healthcare investing, focused primarily on biotechnology companies. Her hope was to empower consumers with access to their own genetic information and to create a way to generate more personalized information so that commercial and academic researchers could better understand and develop new drugs and diagnostics. Presently, 23andMe has built one of the world's largest databases of individual genetic information. Its novel, web-based research approach allows for the rapid recruitment of participants to many genome-wide association studies at once, reducing the time and money needed to make new discoveries, and the company has created a proven and standardized resource for finding new genetic association and confirming genetic loci discovered by others. Under Anne's leadership 23andMe has made significant advances in bringing personalized medicine directly to the public. Anne graduated from Yale University with a BS in Biology.
This annual event helps to fund the Center for Duchenne Muscular Dystrophy at UCLA, the first comprehensive clinic and translational research center focused on Duchenne in the western United States.
Contact Amy Martin if you would like more information about this event.
Below are some images from our previous event.